We had a great weekend full of mommy daughter bonding while daddy was in Vegas playing with friends. Now we are back to our routine this week. Here is the plan for meals this week.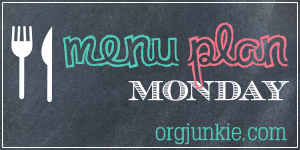 Monday: Lentil Soup (mom's recipe)
Tuesday: Pizza
Wednesday:
Potato, Broccoli and Sausage Skillet
Thursday:
Taquito Salad
Friday: Fettuccine Alfredo
Saturday: We'll be on the road
Sunday: BBQ (if the weather cooperates? - Soup and Sandwiches otherwise.)
Kind of an easy week. Mostly because I went shopping before I planned - so I had to go simple. More menu plans over at
Org Junkie
, of course!