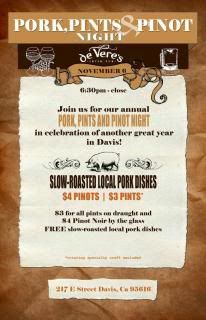 I just cannot believe that 2013 is almost over. This year has been a big blur. I was dreaming about what my baby looked like a year ago -- and now I get to watch her change and grow every day. Ok. Anyways, enough of that. If you are in and around Sacramento and looking for something to do to kick off your November, here are some recommendations.
If you are a de Vere's Pub fan head on over to their Davis location on Wednesday, Nov. 6. They are having a
Davis Pork, Pints and Pinot Anniversary Party
. Sounds like fun. Great prices on pints and Pinot and a free pork plate. Love it.
Next Sunday, November 10 - head on over to Effie Yeaw Nature Center for the
Salmon Stroll
. Hopefully you can see some migrating Salmon. Its also a good time of year to go to
Nimbus Fish Hatchery
.
November 1 was the start of the
Food and Toy Drive
at the Sacramento Zoo. Bring a non-perishable food item or unwrapped toy and get $1 off your zoo admission.
If you haven't seen the
Kara Walker exhibit at the Crocker
- I highly recommend it. Its a bit raw and mature in nature, so be sure you check it out on your own before bringing the kids. But its amazing silhouette art - and very, very moving.
Have a good week!