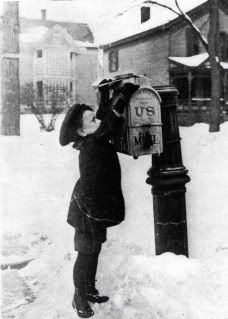 Not to get too deep - but is it possible that people are losing the ability to adequately express their feelings because we don't sit down and write people letters anymore? And yes, I mean handwritten letters.
I love pen to paper writing. I love receiving Snail Mail. I might have be an old soul - but I really think that sometimes its easier to say what you want to say when you let your hand and mind connect with a peice of paper.
I buy stationary all the time. Anytime I see cute note cards, or pads of paper I grab them. It's definately a fixation. One place I check out a lot?
16 Sparrows
. They have some great freebies too along with their stationary for purchase. You can join the
Letter Writing Alliance
too - for access to more freebies. (I'm waiting for the
Letter Writing Alliance Gift Bag
to be available again.)
My favorite of the free to all stuff? The
"Yay! Snail Mail Goodies"
labels. The
blog
? Also amazing.
Check it all out - and feel free to write me a letter!
image from: The Smithsonian