It's Easter week (one of my favorites) and April is flying by. Another fairly blown week last week. It's what happens when I don't make it shopping on Sunday or Monday. Lets try again this week.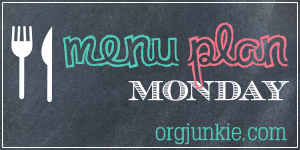 Monday:
Lemony Spring Risotto
Wednesday: Freebie night (I'm building this in because we always end up at my parents house at least one night a week.)
Thursday: Tropical Basil Stir-Fry (didn't make last week...)
Friday:
Pizza
(we STILL have not had pizza... its been on the plan for weeks.)
Saturday: Early Easter dinner with husband's family
Sunday: Easter celebration with my family
I'm thinking that the Lemony Spring Risotto I'll be making with Orzo instead of rice... but keep the recipe similar. Hope everyone has a great Easter! More menu plans at
org junkie
.