Another meal plan - weeks are seeming to fly by around here. We didn't make pizza or buffalo chicken salad last week, so they'll go on the plan this week.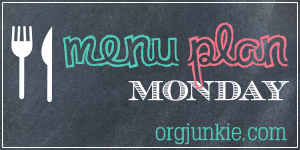 Monday: Steak Tacos
Tuesday:
Buffalo Chicken Salad
Wednesday:
One Pot Kale and Quinoa Pilaf
Thursday:
Saucy Hungarian Red Potato Goulash
Friday:
Pizza
Saturday: With in-laws
Sunday: Celebrating father in-law's birthday
Ok, there is the plan. Hope everyone is enjoying Spring! More menu plans at
org junkie
of course!
And if you missed it - I did a post last week on my favorite recipes to use
rotisserie chicken
.