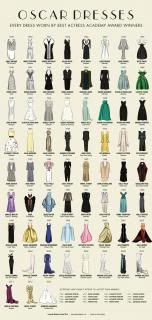 I'm in a real "infographic" mood lately. Last week it was the
movie quotes as charts
and now its
Oscar dresses worn by best actresses
over the year. Figure its timely since the awards are this weekend.
Go to the site and check out the full size version so you can see all the individual dresses. Although I must point out a slight error for 1940. Viven Leigh wore a
dress with flowers
on it not polka dots... Don't ask me how or why I knew this, just did.
Also it says "unknown" for Joanne Woodward's dress but I'm pretty sure that it was homemade.
I must confess I haven't seen a lot of the earlier movies on this list. Most aren't available for free Amazon Prime (probably the only way I'd ever watch them) but
The Song of Bernadette
is so I might give that one a try.
But just browsing through the movies these ladies won for, I think my favorite is
Butterfield 8
(Liz Taylor won in 1961.) Ok, that's enough Oscar dress talk. Since I haven't seen any of the movies nominated this year - I guess the dresses are the only thing I have to watch for...