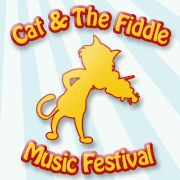 Looking for things to do this week? My focus of things to do has changed dramatically. I pretty much just look for things to do with Lucille - like
Mommy and Baby Yoga
, or
Baby time at the library
. But I had time to find some other things this week to share. So here ya go!
One thing I'd love to be able to take little miss L to this weekend is the
Cat & the Fiddle Music Festival in Fairytale Town
. The festival runs Aug. 9 - 11 and has daytime performances (including
Mr. Cooper
who I've mentioned before) and evening concerts as well. Be sure to check out the
information
- it looks like a great event for the kiddos.
How about
Sangria Weekend at Fenton Herriott Vineyards
in Placerville on August 10 and 11. Five dollars for a refreshing glass of Sangria sounds like a good way to end the summer. Bring a picnic and make a lunch of it.
If you have a 4 - 11 year old who needs some extra assistance learning to
ride a bike
- REI offers a class for that on Aug 7. Some times kids might need some help from someone other than mom and dad.
Hope you all have a good week!