MPM: Week of March 4
Last week worked well. When I made my Black Bean Asian Tostadas I forgot to buy cabbage to put on it... and we really wanted some veggie so I added some Spinach to the black bean mixture. They were actually really delicious. I love the cabbage because of the crunch but the spinach was good too. I love discovering new things like that when cooking!

On to this week, I put TBD on Saturday and Sunday because we're having a visitor from out of town -- and I'm sure we'll end up going out at least one of those nights...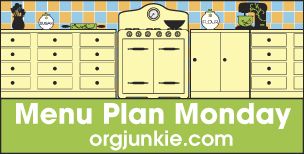 Monday: Turkey Lettuce Wraps
Wednesday: Soup & Grilled Cheese (we didn't have this last week)
Thursday: Baked Ziti
Saturday: TBD