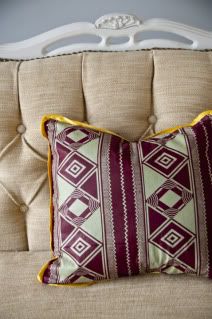 Most of my friends and loyal readers know about my love for all things shoes, owls and honeybees. But here is a new one I want to spring on you: throw pillows. I absolutely love having 8 - 10 different mix matched throw pillows on my living room couch and if I was any good at making my bed, I'd have them their too.
So when I saw these
African Pillow Covers
over at
Angella Eisman Designs
- I knew they deserved a Friday Fixation post. My favorite is this purple striped one. I especially love the golden trim.
They are all on sale for $7 (from a mere $14) and the proceeds go to a girls sewing school in Africa. How about that, you can buy something pretty for your home AND feel good about it.