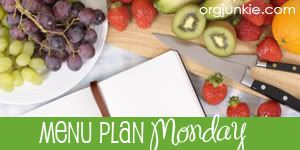 Well I thought I might plan out some meals this week. I made some yummy things last week that I will hopefully be sharing with you later this week.
Here is the plan:
Monday: visiting family
Tuesday: River Cats game
Wednesday:
Garlicky Roasted Garbanzo Beans with Feta, Mint and Lemon
Thursday: Spinach and Strawberry Salad
Friday: BBQ Chicken
Saturday: Eat out
Sunday:
Broccoli, Carrots and Nuts Stir Fry
You can see more menus over at
orgjunkie.com!