I heart free printables.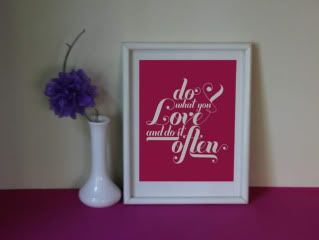 Of course if you've been a regular reader of my blog - you know that. I found one today that I immediately printed to put up on my wall in my office. Over at
How Joyful
she features a section of
free printables
that have just a gorgeous type. The one I was inspired by was the "
Do what you love and do it often
" quote. I printed it in the yellow and black color combo - Although the fuchsia and white one is lovely too.
What a great reminder to have around. I definately try to do something everyday that I love to do. Whether its browse my favorite blogs or play a game of cribbage with the Mister.
Happy Wednesday!