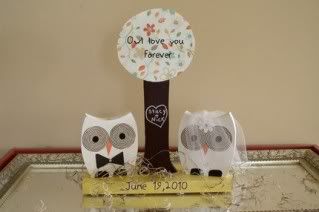 I stumbled across
The Wooden Owl's shop
over on etsy and as soon as I
saw this
I had to share it. What's cuter (at least to me) then a little bride and groom owl sitting under a tree?? The "Owl love you forever might be a bit cheesy - but I do like the heart and names carved into the trunk.
Even as an owl lover, I'm not so sure I'd want this as a centerpiece - but I'm sure I could find a place for it.
The
shop
has other cool things as well... not all owls but all amazing.