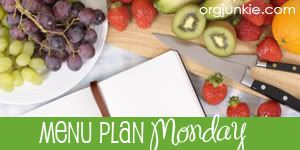 Some of these may not get made this week - but I wanted to have a plan anyways. My sister and her family are in town so most nights we'll be eating all together at my parents so I'm not sure it will work. Although I end up cooking 90% of the time at my parents anyways, so you never know.
Monday: Cheesey Chard Pie
Tuesday: Taco Night!
Wednesday: Blueberry Balsamic Salmon and
Veggie Kebabs
Thursday: Twilight Thursday at the Zoo
Friday: Visiting a friend from out of town.
Saturday: Ceasar Salad
Sunday: Fourth of July Party!
Check out other menus at
orgjunkie.com