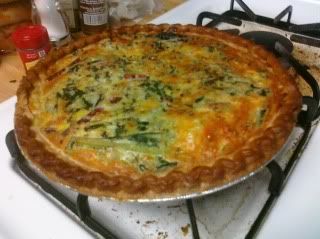 Monday night I made this yummy Cheesy Chard Pie. The recipe is adopted from one that I found on
Spark Recipes
and turned out delicious! Here is the recipe:
Cheesy Chard Pie
Ingredients:
1 crust, single 9" frozen pie crust
3 eggs (I used egg substitute and it came out fine)
1 small onion, chopped
2 cloves of garlic minced
1 tbsp Olive Oil
1/4 cup Gruyere Cheese
1 bunch Chard (about 3 cups chopped)
1/4 cup shredded Parmesan Cheese
Directions:
Cook garlic and onion in 1T. olive oil. Meanwhile, cut chard stalks into 1" pieces, and cut leaves into pieces. Add stalks to garlic and onion and cook a minute or two, then add the rest of the chard leaves. Cook down until chard is wilted. If there is excess water, drain it out of the pan.
In a bowl, beat 3 eggs, add 1/4 Cup cheese (or more if desired). When chard is cooked, add to egg cheese mixture, stir, pour into pie shell. Top with Parmesan.
Bake at 400 degrees for 30 minutes or until firm. Makes 8 slices.