Its meal planning time again... and here is the plan for this week. The Root Beer-Marinated Pork sounds relish. I am anxious to try it.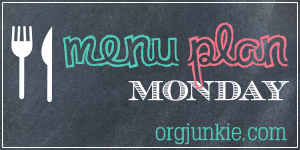 Monday: Baked Sausages with Herbed Beans
Tuesday:
Root Beer-Marinated Pork Tenderloin
Wednesday: Ginger Chicken with
Brown Rice and Edamame
Thursday: Soup and Grilled Cheese Sandwiches
Friday: Taquito Salad
Saturday: With Family
Sunday: With Family
More plans over at
Org Junkie
!