Do I dare and try and plan a week of meals with a newborn? Our little girl is a month old now and I think I can put together a list of meals that either the hubby or I could prepare. Some of these are leftover ideas from my menu plan the week Lucille was born. So here it is: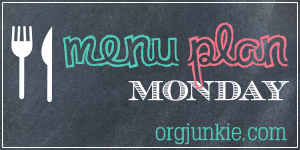 Monday:
Ravioli Lasagne
Tuesday: Black Bean Asian Tostadas
Wednesday:
Spinach Artichoke Melts
Thursday:
Cheesy Chicken and Yellow Rice
(crockpot!)
Friday: Homemade Pizza (either
Gorgonzola Apple
or
Spinach Artichoke
)
Saturday: Parents
Sunday: Meatloaf (previously frozen)
O.K. that's the plan. We'll see how it goes! More menu plans at
org junkie
!