Agate seems to becoming more and more popular these days and I am really liking some of the stuff people are doing with it. The first thing with it that grabbed my attention was these
Agate Coasters
over at
2Jane
.
The jewel tones seem to just pop and I love how the orange one is kind of translucent and they come in different color sets (all the same or a mix).
For $54 a pretty affordable housewarming gift - or OTR (Off the Registery) Wedding Gift.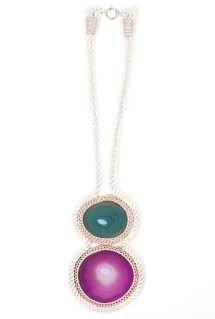 Then - I saw the jewelry over at
Brook&Lyn Boutique
. And while they are slightly out of my current price range for jewelry (nevermind sold out of all the peices I like) they are just awesome designs.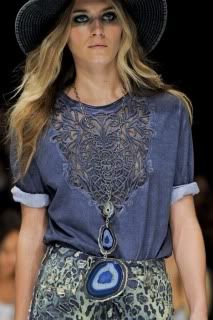 I think this
green and purple combo
is my favorite.
Similar necklaces were featured on the Roberto Cavalli S/S 2011 Runway Show (see picture to left.)
Anyways - I'm loving it (and keeping my eyes open for cheaper versions.)