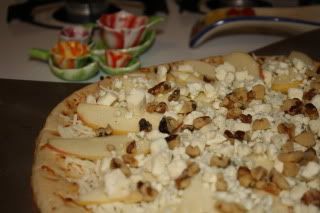 This is one of my most requested dinners. My parents love it. My fiance loves it. If I give people a choice they ask for this. And luckily, it is so easy. The taste combo is amazing - and if you like caramelized onions you could add some and it would taste delicious.
Anyways, try it out and let me know what you think.
Apple, Gorgonzola, Walnut Pizza
Time: 5 minutes prep/10 mins cooking
Printable Recipe
1 ready to use pizza crust
1 1/2 cup mozzarella
1 apple cut into thin slices (I like the pink lady apples)
1 cup Gorgonzola cheese
1/2 cup walnut pieces
Set oven to 350 degrees or whatever temperature is recommended on the pizza crust packaging. Sprinkle the mozzarella cheese over the pizza crust to cover. Add the apple slices in a spiral around the pizza. I normally put the slices pretty close together so that I can use a whole apple.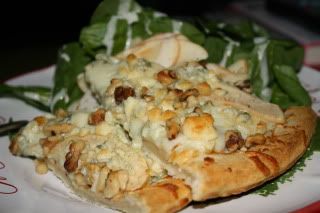 Sprinkle the Gorgonzola and walnuts on top of the apples and bake according to the pizza crust package. I bake it straight on the wire rack in the oven so the crust gets crispy.
You could always make your own pizza dough... but I do just fine with the store bought. That way this is a great quick weeknight meal.
And here is the lovely result! Serve with salad and its a yummy vegetarian meal.