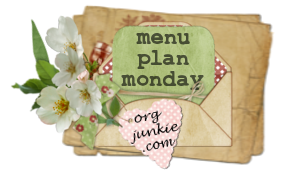 Well last week was a total disaster as far as
Menu Planning
goes... but I got pretty sick early in the week so it threw a wrench into my nicely planned menu. But here's to trying again...
Monday - Spinach and Feta Stuffed Pork Loin (from Trader Joe's)
Tuesday - dinner with family
Wednesday - Pork Tenderloin, Pear and Cranberry Salad (left over pork tenderloin from Monday)
Thursday - Crispy Fish w/ Lemon-Dill Sauce and sauteed zucchini (from April 2010 Cooking Light Magazine)
Friday - w/ family
Saturday -
Southwestern Soup
(saw this on
Orgjunkie's menu last week
and sounded yummmmy!)
Sunday -
Easy Lemony (Snicket) Chicken
So there it is. Better luck to me this week...