Time just seems to be flying by around here. Anyone else just amazed that we are 1/4 of the way through 2014? It's crazy. We once again, skipped the Buffalo Chicken Salad and Pizza so they are back on the menu this week. I swear we don't eat pizza and buffalo chicken every week.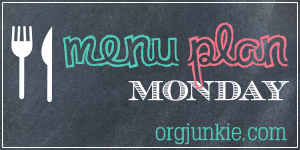 Monday: Dinner at my parents
Tuesday: Buffalo Chicken Salad
Wednesday:
Stir-Fried Sausage, Chickpeas and Rice
Thursday:
Sesame Ginger Salmon
Friday: Pizza
Saturday: Pasta with meat sauce
Sunday: Stuffed Bell Peppers
Another quickly thrown together plan. Hope everyone has a good week. More menu plans over at
org junkie
!