Happy St. Patrick's Day! I bought a cute tee for Lucille to wear today and then forgot to put her in it before I left for work. Go figure. Anyways, I did manage to do my menu plan for this week so here it is: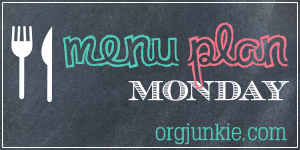 Monday: Sausage and Cabbage Casserole
Tuesday: dinner with family
Wednesday:
Creamy Caesar Chicken Pasta
Thursday:
Broccoli Quinoa Casserole
Friday: Buffalo Chicken Salad
Saturday:
Pizza
night!
Sunday: BBQ
Hope everyone has a good week! More menu plans at
org junkie
of course!