Well the last few weeks have been hectic. Work and life caught up with me all at once... and I hit a wall on my blog posts. I hope to get back on track this week. And what better way to do that then with some menu planning!
Here is the plan this week.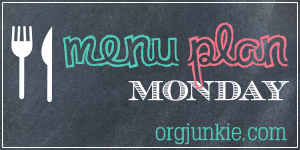 Monday:
Black Bean Soup
Tuesday: Chicken Tacos
Wednesday: Pulled Chicken Sandwiches (leftover chicken from Tacos)
Thursday:
Oven Roasted Ravioli
Friday:
Kale Quinoa Pilaf
Saturday: Dinner with my parents
Sunday: Taquito Salad
I'm making the chicken for the tacos in the crockpot. If its good - I'll post the recipe. Hope everyone has a good week and is finishing up that Christmas shopping! More at
Orgjunkie
!