Crockpot cooking is an easy way to get a nice warm meal and I don't do it nearly enough. This week though, I experimented a little bit because I wanted Chicken Tacos on Tuesday and wanted to do the chicken in the crockpot. It was easy-peasy and delish!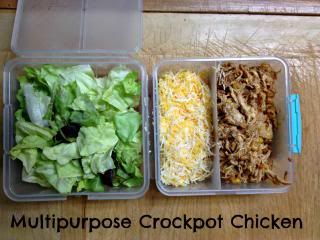 Here is the recipe. Forgive the picture, I realized I didn't take a picture of the chicken in the crockpot or in tacos which would have been better. But the chicken was also yummy as a chicken salad for lunches (which is what the picture is showing.)
This recipe made enough for tacos for 4 people one night, chicken sandwiches for 2 people another night and lunch for 2 people for a few days.
Multipurpose Crockpot Chicken
4 skin-on boneless chicken breasts
1 packet of taco seasoning
2 teaspoons of arbol chili powder
1 1/2 cups of salsa verde
1 cup frozen corn
I cut each of the chicken breasts in half put the pieces in the crockpot. Add taco seasoning, arbol chili powder salsa and corn.
Cover and let cook 8 hours on low (or 4-5 hours on high.) Shred with a fork and serve!
Like I said, easy-peasy! Then you can do what you'd like with the chicken. The tacos were my favorite but even as a chicken salad it was great.