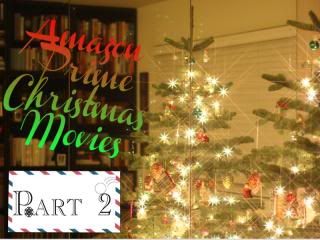 Last year I highlighted movies that were available for streaming on Amazon (free for Prime members!) There have been some new additions this year so I thought I'd put together a part II. Here is my list for 2013. Be sure to check out the ones I listed last year too!
1.)
Scrooged
- I love Bill Murray and love this movie.
2.)
The Hollywood Place: Bing Crosby Christmas Show
- If you like Bing Crosby - this could be a fun one to watch with the family.
3.)
Jingle All the Way
- Arnold Schwarzenegger can be funny in movies. I actually haven't seen this one, but its free - so who cares if you don't watch it all.
4.)
How About You
- Ok, now we are getting a little more obscure. But it has Vanessa Redgrave in it. So maybe?
5.)
Christmas Classics Vol. 1
- This would be great if you've got kids. Or maybe if you enjoy an old fashion cartoon every now and then.
6.)
The Rockettes: Radio City Christmas Spectacular
- I like the Rockettes. This would be something fun to have playing in the background during a christmas party or something.
7.)
Emmet Otter's Jug Band Christmas
- Another one for kids. But its Jim Henson - so I thought it was still worth including.
8.)
Mr Magoo's Christmas Carol
- Ok - one more kid one. Any other good old fashioned 1960's cartoon. I like this one.
9.)
The Bishop's Wife
- An old one that I've some how missed before. Starring Cary Grant.
Ok... there is the additions. I'm ready to start watching Christmas movies... 'tis the season.