Well last week was crap as far as planning goes. I worked late 3 nights in a row and made my parents feed me when I came to pick up Lucille.
But now its Thanksgiving week - which means lots of family, food and fun. I love this time of year. I am thinking that this
Chandon Spiced Apple Punch
is going to be a HUGE part of my week. Doesn't it look wonderful?
Here is a menu plan (as best as I can come up with) for this week.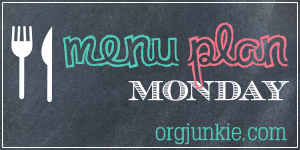 Monday:
Broccoli, Lemon & Parmesan Soup
(didn't make last week)
Tuesday: at my parents (our out of town family arrives!)
Wednesday:
Creamy Caprese Quinoa Bake
Thursday: Thanksgiving Dinner!
Friday: Leftovers I'm sure...
Saturday: Dinner for nephew's birthday
Sunday: with Family somewhere...
More menu plans at
org junkie
!
Hope everyone gets to spend the holiday with family and friends. And again, THANK YOU for being part of my blog family by reading these posts! It means a lot to me.