Well we had a crazy fun packed weekend. Saturday was Lucille's baptism and Sunday we went to Apple Hill (scratch another thing off the
Fall Bucket List!
)
The first two items on this list - you might recognize from last week. They are ones we missed. We ended up eating at my parents a few nights. So here is the plan: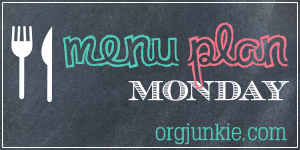 Monday: Fettuccine with red sauce and feta
Tuesday: Taquito Salad
Wednesday:
Broccoli, Lemon and Parmesan Soup
Thursday:
Crockpot Pork Tenderloin
Friday: Cuban Sandwiches (with leftover pork)
Saturday:
Potato Pizza
Sunday: With family
OK! There is our plan. More plans over at
Org Junkie
! Hope everyone had a great weekend.