Meal planning time again. I know I'm off a day for MPM (menu planning Monday) but yesterday was a holiday so it barely counts. Here is the plan: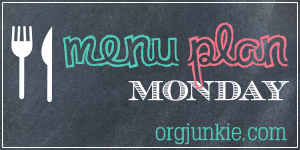 Monday: BBQ
Tuesday:
Pork Tenderloin
Wednesday: Pork Tacos (with leftover)
Thursday: Fettuccine with red sauce and feta
Friday:
Taquito Salad
Saturday: Lucille's Baptism
Sunday: Dinner with family
We have the taquito salad once a week, I know. But its good and easy and we always have the ingredients. We'll be giving Lucy avocado for the first time this week - so of course, we have to have tacos to celebrate.
More menu plans at
org junkie
.