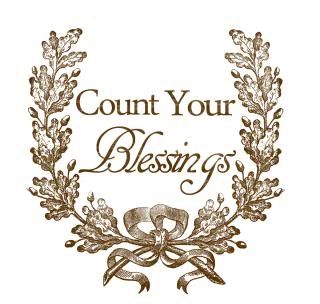 Well, the weather is starting to cool (finally) and I'm sure it will be raining in no time. Time to start looking for things to do inside. Warm soups, warm drinks, good movies and fireplaces. Sound good? Here are some links to get you started.
50 Most Heart-Wrenching Movies of All Time
-
Forrest Gump
and
The Way We Were
, are the only ones available for free to amazon prime members (there are a few more available on Netflix, Crackle or HitBliss though...)
Pumpkin Pecan Muffins
- I'm gonna try these soon. Maybe knock another thing off my
Fall Bucket List
.
Hot Buttered Rum
- My favorite cold weather drink. I didn't get any last year because I was prego. This year: bring it on.
I love the idea of
Fall Scavenger Hunt
.
I have a slight obsession with
Penguin pajamas
right now. This is adorable! Warm and cozy.
P.S. I just loved the vintage
"Count Your Blessings" graphic from graphic fairy
. Of course November is a good time to remember just how blessed we all are.