Plan for this week. I'm excited to try the short ribs in the crockpot. Crockpot meals and soup! I love Fall meal planning.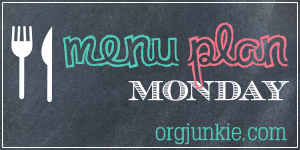 Monday: Taquito Salad
Tuesday:
Chili-Orange Short Ribs
Wednesday: Basil, Artichoke and Sun-dried Tomato Pizza
Thursday: Soup and Grilled Cheese Sandwiches
Friday: At my Parents
Saturday: Out of town
Sunday:
Creamy Caprese Pasta
You can see more menu plans at
org junkie
- of course!