Well
last week
didn't go exactly as planned - but all in all it went o.k. I'm hoping this week is a bit smoother. I loved the Sausage and Herbed Beans last week. I'll share the recipe later this week its from a great Williams-Sonoma One Pot Cookbook.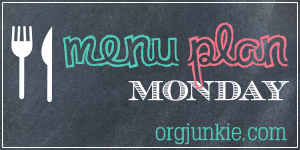 This weeks plan:
Monday:
Root Beer-Marinated Pork Tenderloin with Sweet Potatoes
Tuesday: Cuban Pork Sandwiches (with left over pork)
Wednesday: My mom's Birthday
Thursday:
Oven Toasted Ravioli
& Salad
Friday:
Apple Gorgonzola & Walnut Pizza
Saturday: With family
Sunday: With family
Have a great week! More menu's over at
orgjunkie
!