I love Halloween. And this year I am so excited that its Miss Lulu's first. We have a great flower costume (as pictured here) and I can't wait to hand out candy - a first for us in our new house. I think its going to be a good week. Here is the meal plan - the hubby is going to Vegas this coming weekend so I'll probably be eating with my parents those days.
Monday: Stuffed Acorn Squash (my mom's recipe - I'll post later this week)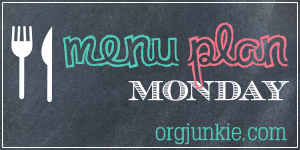 Tuesday:
Taquito Salad
Wednesday: Spicy Beef & Broccoli over Rice (from Trader Joes)
Thursday:
Lentils and Sausage
Friday: Soup night
Saturday: with my Parents
Sunday: with my Parents
There is the plan! More over at
orgjunkie
!
Hope everyone has a great Halloween week. xo