Ok. I'm back at work and if I don't plan out my meals we eat out or at my parents every night - so I really have to get back on the planning. Here is this week.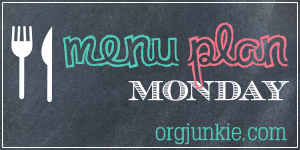 Monday: At my parents
Tuesday:
Spinach & Artichoke Pizza
Wednesday: Taquito Salad
Thursday:
Cheese Tortellini with Spinach and Peas
Friday: Black Bean Asian Tostadas
Saturday: Mac n Cheese
Sunday: BBQ!
Ok... there is the plan. Nice and easy More over at
Org Junkie
!