I can't believe today is the last day in September. Its amazing how quickly this year has gone by. My baby is over 5 months old! Crazy.
Anyways - on to the subject - our menu plan. If you missed my pizza recipe post from last week -
here it is
. If you want to know what we're eating for dinner this week so you can invite yourself over accordingly, here you go: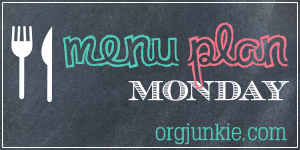 Monday: Roasted Butternut Squash
Tuesday:
Black Beans & Sausage over Rice
Wednesday: Grilled Cheese and Soup
Thursday:
Salmon, Red Cabbage & New Potatoes
Friday: Rehearsal Dinner
Saturday: Wedding
Sunday: BBQ
More plans at
Org junkie
. Happy Monday everyone!