Last week
went pretty well, except the Spinach and Artichoke Pizza was nothing special and kind of bland. I moved the Mac n Cheese to this week - because I forgot our neighborhood was having a party the night we had Mac n Cheese scheduled.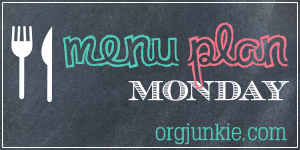 Here is this weeks plan:
Monday:
Chicken Pot Pie Soup
Tuesday: Tacos!
Wednesday: Buffalo Chicken Salad
Thursday: Mac N Cheese
Friday:
Skillet Spaghetti alla Carbonara with Kale
Saturday: Out of Town
Sunday: Out of Town
I love soups and I am really looking forward to fall so I can make more of them! If you want to see more menu plans - head on over to
Org Junkie
!