So I found
Northwestmommy
while I was looking on Instagram (see crush #4) at all the cute
#instamommys
. She does "Monday Listicles" - and I decided to start participating. Here is my first Monday list.
10 Things I Have a Crush On:
#1 - My baby girl
Miss Lulu
#2 - My husband
#3 - My life. I am blessed to have a great family and great friends. Ok. That's all for the sappy crushes. The rest will be not so serious. I promise.
#4 -
Instagram
(follow me if you want to see pictures of #1 and #2) and
VSCOCam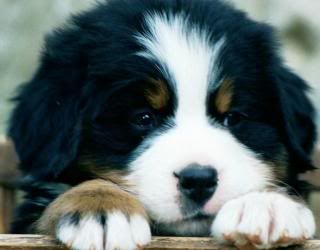 #5 -
Peek Kids Clothing
#6 -
Cooking
#7 - Early Morning (see
previous post
)
#8 - Sewing (see my
leggings post
)
#9 - Big Dogs (I really want a Bernese Mountain Dog or a Newfie - hence, why I was drawn to Northwest Mommy!) See Bernese Mountain Dog puppy above.
#10 - The song
Royals by Lordes
. I am obsessed right now. I blast it in my car like I'm 19 or something. If Lucille was old enough she'd be embarrassed.
Ok. There it is! I can't wait to
read other peoples crushes
!