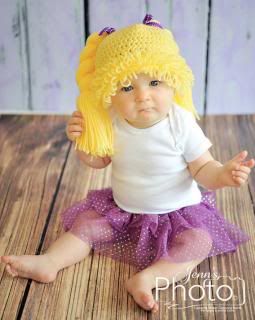 Halloween is one of my favorite holidays - so I am super excited for Miss L's first costume. I just don't know what I want to dress her as. So its early September and I'm already feeling like I'm behind on this. So I thought I'd share some cute and original ideas I've found while searching.
For all the 80's kids that are now parents - how about a cabbage patch kid? You really would just need the wig part and dress baby in some cute flowery dress. Or overalls. Anyways, I love it. Its easy with this
wig on etsy
. This is a definite contender for Lucille.
If we had a little boy -
Chewbacca
would be a great idea. And so easy with a onesie.
There is the strange costumes - like
sushi baby
(but I do LOVE the little wasabi and ginger) or a
hostess cupcake
. Also a little strange - but oddly cute is this
flying pig
. The
Wishing Elephant
shop on easy is full of original ideas.
Ok - any other good original baby costume ideas?