If you've read this blog at all - you might know by now that I love to make pizza for dinner. Its easy and yummy and I can normally do it with ingredients I have on hand. This week it was Chard (from the Farmers Market) and Canadian Bacon.
It was delish - better I think than the other
Swiss Chard pizza recipe
I've posted. Here it is!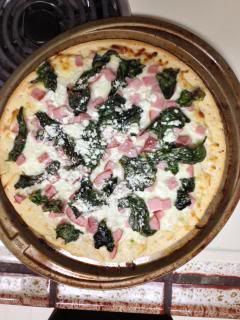 Chard & Canadian Bacon Pizza
Pizza crust or dough (I use store bought)
Bunch of swiss chard, cut into pieces
1 garlic clove, diced
1 tsp. olive oil
1 Tbsp. ranch dressing
1 cup canadian bacon, diced
1 cup shredded mozzarella
1/2 cup feta cheese
First I wilted down the swiss chard pieces in a pan with the olive oil and garlic. Then spread the ranch dressing across the pizza crust. Add the shredded mozzarella and top with the swiss chard and canadian bacon.
Last I added the feta cheese and baked according to the pizza crust package. Easy. The feta and chard combo was perfect.
Other pizza recipes
here
and
here
! And yah, if you are wonder why I ate this on Monday - when it wasn't scheduled till later in the week - yes, my menu plan got a little off its tracks this week.