I love coming up with new pizza recipes. They are so easy and quick to make - that I love adding a new one to my list. While browsing through an old issue of Whole Living (Oct. 2012) I saw a recipe for Swiss Chard, Garlic and Gruyere Pizza. I thought it sounded yummy - and we had some left over sausage - so I added for a little twist.
It was delicious so I thought I'd share the recipe: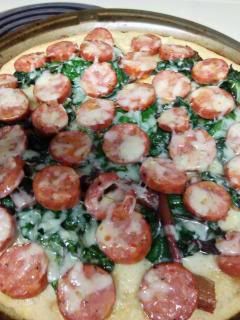 Swiss Chard, Garlic, Sausage and Gruyere Pizza
adapted from Whole Living, Oct. 2012
serves 4
2 Tbsp extra-virgin olive oil
2 cloves garlic
1 bunch Swiss chard, stems removed and thinly sliced, leaves torn into pieces
Coarse salt
Pizza crust or dough (store bought is easiest)
2 pre cooked sausages cut into thin slices
1 cup grated Gruyere
pinch red pepper flakes
Set temp on oven as your pizza crust instructs. Mine says set to 450 degrees and then lower to 425 degrees when you put the pizza in.
Heat 1 Tbsp. oil in a large skillet over medium heat. Cook garlic until just tender, about 1 minute. Add chard stems and cook, stirring, until tender, about 5 minutes. Working in batches, add leaves and cook until just wilted, about 5 minutes. Season with salt and set aside.
Brush crust with olive oil and season with salt or garlic powder. Sprinkle with 1/2 the Gruyere, then top with chard and sausage and sprinkle with remaining cheese.
Transfer to oven and follow crust / dough instructions.
There you go. Easy and yummy. If you want my other pizza recipes they are
here
and
here
.