Well, I'm a day late in my meal planning. Hopefully that's not a sign of things to come. Here is my plan: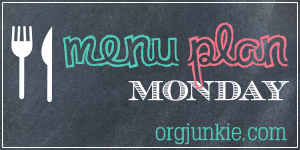 Monday: Eat out with my parents
Tuesday: Buffalo Chicken Salad
Wednesday:
Spaghetti Pie
(thanks for the link
Orgjunkie
!)
Thursday: Fajitas
Friday: Pizza (not sure what I'm gonna put on it...)
Saturday:
Grilled Chicken w/ Yogurt Marinade
Sunday:
Fish Tacos Greek Style
My parents are on a week vacation this week - so no extra help for me during the day. I tried to choose quick and easy stuff... hopefully I can accomplish it.
More plans at
Org Junkie
!