If you missed my first post about my cooking thru magazines adventure - you can check it out
here
. This recipe is also from Bon Appetit May 2012. This recipe makes A LOT. I should have cut it in half, we had dessert twice and breakfast once and still had some left over.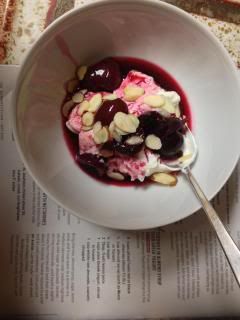 Cherries in Almond Syrup Over Greek Yogurt
6-8 servings
4 cups pitted fresh red or black cherries
1/4 cup almond syrup
1/4 cup sugar
2 Tbsp. fresh lemon juice
7 cups plain Greek yogurt
1 cup whole raw almonds, coarsely chopped (I used slivered)
Bring cherries, almond syrup, sugar, lemon juice and 1/4 cup water to a simmer in a medium saucepan over medium high heat, stirring until the sugar is dissolved. Simmer, stirring occasionally, until liquid is slightly syrupy but cherries still hold their shape, about 5 minutes. Transfer mixture to a bowl and let cool completely. Chill until cold.
Divide yogurt among bowls and spoon cherries and juices over. Garnish with almonds.
Obviously, you can make the cherry mixture and eat this as you wish. Which is what we did. It was really delicious and super easy - although pitting the cherries takes some time. I'd definitely make this again - its a pretty dessert and easy so it would be good for when you have company over.