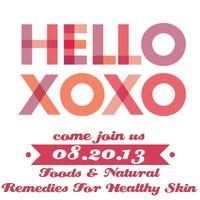 If wine and music are your thing (and who's aren't?) - you should think about heading out to Placerville this weekend. Grace Patriot Wines has
Sundown at the Barn on Friday
nights and the music this week is from a local acoustic duo "The Bunkies."$5 admission includes your wine tasting.
Over at
Hello XOXO
they are doing an event that will talk about
food and natural remedies that are good for you skin
on Aug. 20. If you haven't heard of Hello XOXO its a unique concept - kind of a reinvention of the knitting circle - where they offer some unique events and classes for women and families. Its worth signing up for their newsletter to keep up with what they are doing.
Oh - and of course, its
midtown cocktail week
! Since I am still on maternity leave, I don't know that I'll make it out for the festivities - but check out the
website
for participating places. August 21 - 25.
And if you are looking for a good outside show to watch with the family - check out
The Drowsy Chaperone at the Fair Oaks Theatre
- shows start at 8 p.m.
Hope everyone has a good week!