Ok. I did a one month review of the things I felt were essential that
first month
-- and then kinda forgot about months 2 and 3. Well here we are at month 4! I can't believe it. Time has just flown by and see seems like such a big girl already.
Anyways, I figure I can just do a combo - on the things I've needed or not since my
first month post
. Its funny reading that post because I quit the nursing pillow cold turkey since then. I'm not even sure where it is. Anyways its done wonders to make me more comfortable feeding her in places other than our home plus I'm sure she's too big for it now.
The other funny thing is about the clothes. She's now in 6 month clothes... so I guess she caught up a bit on the weight! Anyways - here is my review:
First - Our swing. Its been a huge help because it is easy to get her to nap in the swing for fairly long stints when we are home. Which means I can get stuff done. Like blog. We have this
Fisher Price Cradle N Swing
- and its great. It plays music and Miss L loves the mirror and how cozy it is.
Unfortunately for me, the baby wearing has been kind of a bust. She gets really fussy really quick in both the
ErgoBaby Carrier
and the Sling. She's done ok a few times in the carrier - either asleep or quick trips to the grocery store. I'm going to keep trying.
I love our
Tomme Tippee bottles
. We give Miss L one bottle at night before bed - so I can pump and stock pile some supply for returning to work. This means daddy gets to feed her and put her down. Its been a great nighttime routine. The shape of the bottle is great and she can grab on to them easily.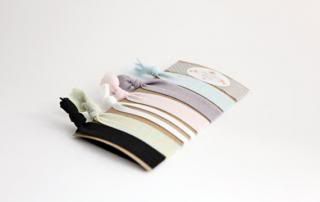 For me, these
no crease hair ties
have been in use daily. Between Miss L pulling my hair and it falling out (worst side effect!) its easiest foe me to have my hair out of my face. These are great because they don't leave much of a crease at all.
Well - thats what I can think of right now. I can't believe 4 months have gone by!