I'm sure many of you have heard of the
Birchbox
. I just got my first one and I thought I'd share the contents. The idea of paying a monthly fee to have a box of new things to try sent to you is genius. Especially for new mom's who haven't quite mastered the shopping with a big honking stroller yet (although we are working on it.)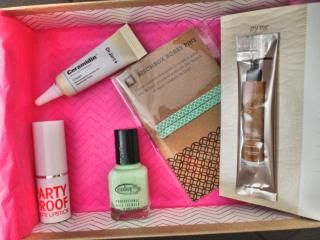 *
Color Club Nail Polish in London Calling
*
Caudalie Divine Legs Lotion
*
ModelCo Party Proof Lipstick in Peony
*
Dr. Jart+ Ceramidin Cream
*
Birchbox Bobby Pins
I tried the lipstick immediately and loved it! Love the green color of the bobby pins and the nail polish and can't wait to see if the lotion works and gives me some color on my legs!
You can also find other interesting monthly subscriptions like this cool
Nature Box
that features healthy snacks - all natural. Another food version is
Love with Food
. Or for $7 a month you can try
goodies.co
.
If you're looking for a box full of goodies for your kiddo - try out
Citrus Lane
(I'm tempted by this one too!) There is
Kiwi Crate
too, which provides crafty projects for kids monthly.
Little Passports
is another similar monthly mail subscription that follows the travels of Sam & Sofia - helping your kids with geography. I've always loved getting mail - so these are all new refreshing ways to use the US Postal Service!
I'd be interested if any readers subscribe to any of these (or any other) packages... Please share!
Todays
NaBloPoMo prompt
is asking if I believe all things are connected. Which I'd have to say no too. I think we do our best to connect everything - but sometimes you have to let things stand alone in order to really see things for what they are. The biggest thing to remember is to try and enjoy everything in your life! I know I'm going to enjoy these goodies, and I can't wait till Lucille is old enough to enjoy a
Citrus Lane
box with me.