Just getting back from an AMAZING vacation and trying to get back in the swing of things. Here is an attempt at planning this week. So Monday planning is happening on Tuesday.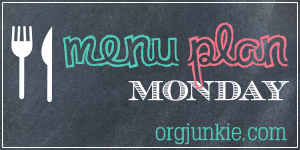 Monday: Pizza (hey, we
just
got back...)
Tuesday: Black Bean Asian Tostadas
Wednesday:
Dijon Tilapia w/ Crumb Crust
Thursday: Taquito Salad
Friday:
Lemon Walnut Chicken
Saturday: Out of town
Sunday: Out of town
More plans over at
Org Junkie
!
Today's
NaBloPoMo
prompt:
Mark Zuckerberg has said about his site: "The thing that we are trying to do at Facebook is just help people connect and communicate more efficiently." Do you think he succeeded?
I don't think efficiently is the right word. Sometimes context gets lost on Facebook just like thru text messages. Communicate more often might be more
accurate. I think we keep in touch with people we otherwise wouldn't on Facebook.