Well
last week
was a major success, if I do say so myself. I was able to make the
Tuna & Macaroni Salad
while the baby napped so it was ready when the husband got home. He will attest to the fact that this is the first time post-baby - that I've been able to put together a new meal - before he got home. And I was super proud of myself. The meal was delicious - the only changes I made from the
original recipe
was I didn't use capers and I added a little mustard and used less mayo. I definitely recommend this recipe if you are a pasta salad / tuna salad fan. Especially during this HOT summer.
The tacos were also yummy - we invited my parents over to help with the baby while I cooked - so again it was ready when the husband got home from work. Which means we got to eat at 7pm vs. 8pm. Yay! I'll have to make the tacos again and take some pictures to share with the recipe.
So - on to planning this week.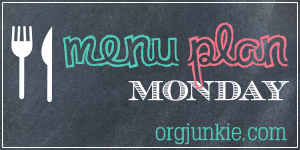 Monday:
Lemon Chicken Pasta w/ Artichokes & Feta
Tuesday: Chicken Gyro Wraps
Wednesday:
Root Beer Pulled Pork Sandwiches
Thursday: 4th of July
Friday: Taquito Salad
Saturday: Out for the Mr.'s birthday
Sunday:
Grilled Pork Chops w/ Peach Salsa
Hope we do as well this week as last week! More plans over at
orgjunkie
!