I don't do well having to decide whats for dinner last minute. Hence, my attempt at planning. Lately I've really needed some inspiration. Thank goodness for food blogs and Pinterest! Here's my plan. Monday is easy - I got a 50% off coupon for a Top N Bake Pizza from the Raleys / Bel Air Try It! program. I"ll let you know how it was next week.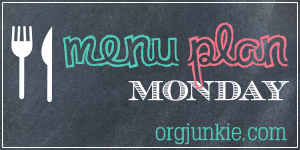 Monday: Dinner with Family
Tuesday:
Top N Bake Pizza
from Bel Air
Wednesday:
Tuna and Macaroni Salad
Thursday:
Zoo night
(Blues night) - then Sushi! (My first real sushi since before I was pregnant and I CAN'T wait.)
Friday: Chicken, Apple & Goat Cheese Tacos
Saturday: Turkey Burgers
Sunday:
Salmon Kabobs
And with some crazy whim of ambition... I would like to try and make this yummy
Blueberry Cream Cheese Coffee Cake
.
Enjoy your week! More menu's at
orgjunkie
!
6/25 UPDATE: My week has already gotten messed up - so I revised it (above.) Also I wanted to share a
great cookbook
in honor of the great James Gandolfini passing away.