I haven't been planning meals much ... but in an effort to keep myself busy I thought I'd plan out this week. Here is what I am thinking...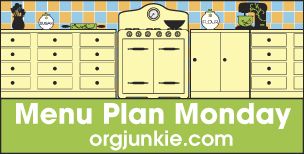 Monday:
Chicken and Asparagus Stir-Fry
Tuesday: Homemade pizza (pesto, artichoke & sun-dried tomatoes)
Wednesday: Dinner at
El Papagayo
Thursday: Black Bean Asian Tostadas
Friday:
Spinach Artichoke Melts
Saturday: Rosemary Chicken
Sunday: Turkey Mac Pie (make one to freeze too.)
There's the plan. If the baby wants to come and ruin it... she's welcome to at anytime. More menu's over at
org junkie
!