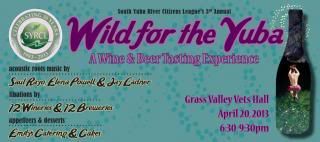 The South Yuba River Citizen League is hosting an interesting looking event called "
Wild for the Yuba
" which will feature some local wines and beers to taste. There will be food and music as well - and the cost is $40 for the general public. The event is April 20th from 6:30 p.m. to 9:30 p.m.
Looking to stock up on some books for your spring and summer reading list? The
Sacramento SPCA Spring Book Sale
starts next weekend on April 20 and runs through April 28. Its held inside the Country Club Plaza on Watt Ave. This is a book sale that has been happening for ages! I remember going to it as a kid with my parents. I always love supporting the SPCA - so I'll be planning on checking this sale out too.
The American River Parkway Foundation is doing their
Spring Clean-up Event on April 20
- if you are looking to do some good while enjoying the outdoors. They are cleaning up at 7 different locations, including my favorite - Ancil Hoffman Park.
Have a great week!