This week I'm going to try and make some things that I can make doubles of and freeze for when the baby comes. I know my husband is freaking out a bit about taking on the responsibility of cooking so this should make it a bit easier. Although he's always good at BBQing and the weather should be good enough after Baby L arrives.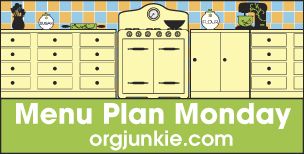 Monday:
Cheesy Chard Pie
(didn't make it last week...)
Tuesday:
Black Bean & Spinach Enchiladas
(make double for freezing)
Wednesday:
Turkey Meatloaf
(freeze 1/2 the recipe)
Thursday:
Chicken Broccoli Rice Cassarole
(make 1 recipe freeze the other 3)
Friday: Soup and Salad
Saturday: With family
Sunday: With family
So - if anyone has good freezer recipe recommendations - let me know! Hopefully I can get organized and make this work!
More menu plans at
Orgjunkie
!