Since we didn't cook much at home last week - I'll share a new restaurant in Sacramento that we tried. The
Flaming Grill Cafe
on El Camino is a funky little place that a friend pointed out to me as having a good selection of beer - so I figured it was a good place to take my parents to try.
We went before going to see Beauty and the Beast and the food was great. They have a wide variety of meat to choose from for your burger. I went with Buffalo and it was delish. If you're out in this area, I'd recommend giving it a try.
Ok. On to my plan for this week. Here's what I'm thinking: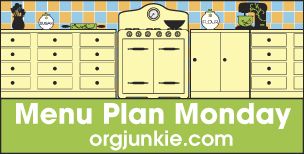 Monday: Spaghetti Aglio e Olio
Tuesday: Chicken Chili Verde Tacos
Wednesday:
Skinny Rosemary Chicken and Brown Rice
Thursday:
Cheesy Chard Pie
Friday: Buffalo Chicken Salad
Saturday: At the in-laws
Sunday: Pizza (probably a frozen CPK one... since we'll be driving back that day.)
More at
Orgjunkie
!